Headboards - Double - 4'6" (135cm)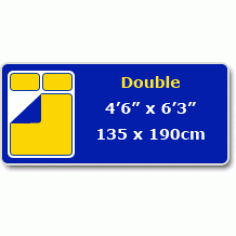 Headboards are not compulsory, however, they effectively complete the look of your divan set in a contemporary or traditional fashion depending on your style and the look you envisage for your bedroom.
We have a choice of metal and wooden headboards for you to choose from.
Alternatively and most popular are our upholstered fabric headboards. Each of our Healthsleep headboards come in three heights: 24", 28" and 54" floor standing. These British made headboards can match the fabric of your base in a style that brings the whole divan set to life to enhance your bedroom. The lowest headboard we do is the little Poppy which is 22" which may be more suited to under a window not cutting off your view or light.
The 24" and 28" headboard comes with struts. The 54" headboard goes from the floor to the height of 54".
The only difficulty you will have is choosing your favourite design from our vast choice.
Sterling Beds two man team will fit the headboard to your base to complete your set.
Showing 1 to 26 of 26 (1 Pages)