Bedding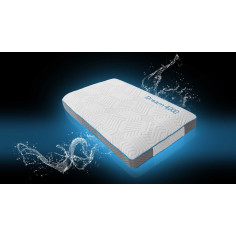 Having the correct bedding is almost as important as the correct mattress.
Pillows especially need to be the correct height and feel for your sleeping position. If you sleep on your side, as most people do, the task of the pillow is to fill the gap between the ear and the end of the shoulder. For back sleepers a shallow pillow is recommended so it does not push the head up out of line with the spine. Front sleepers need shallow pillows too so the head isn't pushed up which causes misalignment of the spine.
Pillows come in all types but one to mention here are our 'ice' pillows. Larger amounts of "ice fibre" in the pillow case make a pillow cooler. Sterling Beds have a variety of cool pillows for you to try. These can also be used not only as a pillow but to lay your arm or leg over as a cooling tool for injury or muscular damage.
Mattress protectors are coverings for your mattress to protect from accidents and perspiration. They are not just for tiny tots but for mishaps such as coffee and wine spillage. Protectors are not the old fashioned embarrassing items sold years ago. In fact in most cases you would not know they were even on your mattress protecting it. Protectors can assist with allergies and keep the mattress dust free. It is worth noting that some mattress manufacturers will not consider warranty claims without the mattress having been used in conjunction with a suitable protector.

A mattress topper acts as an additional level of comfort and support for a mattress. Most modern mattress toppers are either fibre filled (Microfibre) or memory foam. A mattress topper can vary in depth, but most are usually between 3cm and 7cm deep. A topper is usually first used once the mattress is too uncomfortable to sleep on. The right mattress topper can make a firm bed feel softer to sleep on or alternatively a soft bed feel firmer to sleep on.
Choose: