Divan Beds - Small Single - 2'6" (75cm)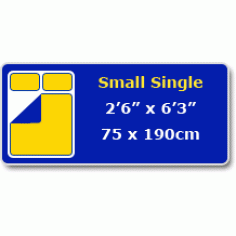 Divan sets are extremely popular with the base available in dozens of different coloured fabrics. The choice of fabric allows you to style your base in a contemporary or traditional way. You may also add a contemporary or traditional headboard in the same fabric which will enhance your divan set in the style and colour that you choose.
2ft 6ins, 3ft and 3ft 6ins divan bases are able to have two drawers. The 4ft, 4ft 6ins, 5ft and 6ft bases may have 2 drawers or 4 large drawers or the continental style which has two half-drawers at the back and 2 large drawers at the front. This allows for opening with fitted furniture at the headboard end. A large end drawer is also available on the 4ft, 4ft 6ins and 5ft base.
Our standard divan base height is 35cm (14") which excludes the mattress. We also have divan bases as above but with a height of 28cm (11ins) – these are perfect for deeper mattresses and for tiny tots so they are lower to the floor. As with all handmade products these measurements are approximate.
Our British made divan bases have a solid top giving an excellent foundation for your mattress which is supportive and gives the finishing touch to your bed.
It is useful to note that the divan base sits in the footprint of the mattress which is great for compact rooms.
Simply add your mattress of choice.
Showing 1 to 21 of 21 (1 Pages)