Mattresses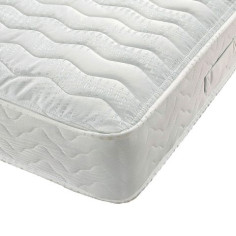 We spend up to one third of our life sleeping – that's the aim - to sleep and wake refreshed ready for the new day.
When we find that our mattress has passed its best, done its job through the years, finding our sleep patterns are interrupted and we may ache a little, this is the time to invest in a new mattress.
You may order from our Website or our fully trained and friendly team are here to assist either in our shop or over the phone. Our team are here to answer your questions and assist you finding the right mattress. Alternatively you are totally free to browse uninterrupted at your leisure.
To give just a little information before looking at individual mattresses here is a brief resume of some of the mattresses we stock:
Pocket Sprung Natural – individually supporting your weight throughout the mattress allowing your spine to remain as straight as possible with maximum comfort.
Pocket Sprung Cool Gel Mattresses – as with pocket sprung but having the addition of moulding to your natural body contours giving a comfortable layer of pressure relief.
Memory Foam Mattresses – either over pocket springs or foam support. Molding to your shape using your body warmth and then returning slowly, having "memorised" your body shape. Giving you a comfortable layer of pressure relief.
Latex - a layer of latex foam over pocket springs to create a supportive and lasting sleep surface. Latex is a natural product from the sap of a rubber tree and acts as a pressure relieving surface. Tending to be used on slightly firmer mattresses.
Choose: