Bedding - Double - 4'6" (135cm)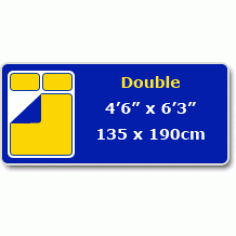 A mattress topper acts as an additional level of comfort and support for a mattress. Most modern mattress toppers are either fibre filled (Microfibre) or memory foam.
A mattress topper can vary in depth, but most are usually between 3cm and 7cm deep. A topper is usually first used once the mattress is too uncomfortable to sleep on. The right mattress topper can make a firm bed feel softer to sleep on or alternatively a soft bed feel firmer to sleep on.
Sterling Beds stocks microfibre toppers and can quickly order in memory foam toppers.

Toppers can be either collected from our store, during opening hours, or we can arrange to deliver FREE of charge within the following Post Code areas when our delivery team is next in that area (PO1 to PO19 plus GU31, GU32, GU33, SO30, SO31 & SO32).
Showing 1 to 3 of 3 (1 Pages)