Bedding - Super King - 6'0" (180cm)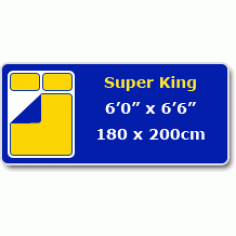 Mattress protectors do just that – they protect your mattress.
Gone are the days of noisy rustling protectors that would wake you up and also feel uncomfortable. Waterproof protectors are thin, soft, washable and quiet.
Protectors are not just for children who may have an accident but for those of us who may have a cup of tea in bed, or even a glass of red wine – spill those on your lovely mattress without a waterproof protector and you will not be happy. Sterling Beds have also heard from distressed clients whose pet has had an accident on the bed. Accidents do happen and if you are prepared with a waterproof mattress protector things aren't so bad.
Protectors are also there as an allergen and dust mite barrier and, of course, to protect against dust, perspiration, body oils and even fake sun-tan so they are really worth considering.
There are a variety of protectors:
A quilted protector which is your very basic item, however, there is no waterproof element to these. Soft to the touch, and suitable for clients who simply want a layer between their mattress and their sheet.
Side Fitted Waterproof Protectors - these are the most popular and look a little like a fitted sheet and tuck in a little under your mattress. These will protect the top of your mattress from spillage and accidents. The sides of these protectors are not waterproof. These are easy to remove for washing when accidents occur. They do not need washing every five minutes as over the top you will have your fitted sheet.
Side Fitted Waterproof Protectors/Sheets - these are the same as above, however, can be used as a dual purpose protector and sheet. Obviously if you use this type of protector as a sheet you will need more than one.
Encasement Waterproof Protectors these are often used in Hotels and for the client who wishes to have the mattress totally encased to protect it 100%. It should be noted that if you buy both your new mattress and encasement protector at the same time, our delivery team can fit this type of protector for you when delivering both. These are slightly more difficult to remove on larger sized heavier mattresses when you wish to wash them.
It is important to note that stained mattresses can affect your warranty.
Showing 1 to 5 of 5 (1 Pages)