Bedding - Memory Foam Pillows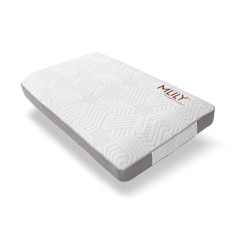 Pillows especially need to be the correct height and feel for your sleeping position. If you sleep on your side, as most people do, the task of the pillow is to fill the gap between the ear and the end of the shoulder. For back sleepers a shallow pillow is recommended so it does not push the head up out of line with the spine. Front sleepers need shallow pillows too so the head isn't pushed up which causes misalignment of the spine.

Pillows come in all types but one to mention here are our 'ice' pillows. Larger amounts of "ice fibre" in the pillow case make a pillow cooler. Sterling Beds have a variety of cool pillows for you to try.
Please bear in mind new pillows can alter your posture and it may take a couple of nights to adjust.
Showing 1 to 3 of 3 (1 Pages)