Bed Frames - Single - 3'0" (90cm)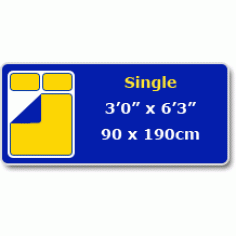 Sterling Beds have a selection of Frames to enhance your bedroom both contemporary and traditional.
Wooden Frames – these generally come with slats. The frames are either solid (usually pine), oak or with oak veneer. Sterling Beds also has a selection of white painted frames.
Older pine trees tend to have fewer knots and this can then be effectively varnished to look like Oak. This is very attractive for our customers seeking a sensibly priced item that is going to look great.
Oak with real oak veneer, which tend to be very strong and chunky. These are higher in price, however, will look very prestigious in your bedroom.
Metal Frames – Sterling Beds has a wide selection of frames available in different metal finishes both classic and traditional in style. These generally come with slates. Various styles and finishes are available from Black Nickel to Ivory Painted.
One of the benefits of a frame is it negates purchasing a separate headboard. Sterling Beds can also supply frames without the foot-end which suits taller people. The Anna for example comes with a low foot-end and we can order this in for you.
Please allow a little extra space in your bedroom for these frames as they are a larger than the footprint of your mattress. Slatted bases may also make your mattress slightly less firm depending on the flexibility of the slat but this is negligible.
Sterling Beds two man team will deliver your frame of choice and construct it for you in your room of choice. This service is free of charge and is a great benefit as the large frames can be a little tricky to construct on your own.
Showing 1 to 7 of 7 (1 Pages)