Adjustable Beds - Large Single - 3'6" (105cm)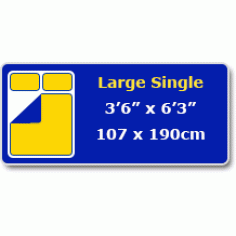 In our Showroom we have an excellent selection of Adjust-a-Rest adjustable beds to assist you with a permanent or long-term disability – to make life easier and give you a better comfort level. Quick delivery assured.
Our adjustable beds are priced without VAT and our friendly and trained staff can help you fill in the necessary VAT exemption form. VAT exemption can be confusing and we can talk you through it – basically if the adjustable bed assists your disability either long-term or permanently then you would most likely be eligible for zero VAT. You do not need a doctor's letter or disabled badge.
There is also no reason if you would like an adjustable bed for luxury reasons and have no disability, why this should stop you purchasing an adjustable bed. However, the current percentage VAT would have to be added to our prices.
Adjustable beds are just that – adjustable. Adjustable independently at the foot end and head-end. So if you have a condition that makes it difficult to sit up easily, or need your legs elevated this is probably the way forward for both your comfort and ease. Other ailments such as acid reflux, sciatica, leg swelling and even snoring can be assisted. The simple handset is extremely easy to operate.
Sterling Beds have standard height and lower adjustable bases. Bases come in several popular fabrics and matching headboards are available.
Mattresses for your adjustable base are especially designed for the movement on the adjustable base. Standard mattresses are not suitable. Sterling Beds have a wide choice of mattresses with different tensions, either natural or gel fillings. Pocket sprung or spring free foam. All covered with a 5 year peace of mind guarantee.
All of our Adjust-a-Bed mattresses and bases are 6'6 long (200cm). Please be aware that regular sized 2'6, 3' and 4'6 sheets are not long enough. The bases and mattresses are slightly longer. Fitted sheets are easily obtained for the longer length.
Your adjustable bed will be delivered by a two man team who will place it in your room of choice, set everything up for you and we can dispose of your existing bed for a small fee. Sterling Beds have legitimate business waste licence which is required by law for any disposal. The following sizes are available:
The following sizes are available:
Small Single - 2'6" (75cm) & Single - 3'0 (90cm)
Large Single - 3'6" (105cm)
Small Double - 4'0" (120cm) & Double - 4'6" (135cm)
King - 5'0" (150cm) Sold as 2 x 2'6" beds which can be linked if required
Super-King. - 6'0" (180cm) Sold as 2 x 3'0" beds which can be linked if required
Showing 1 to 6 of 6 (1 Pages)