Divan Bases - Large Single - 3'6" (105cm)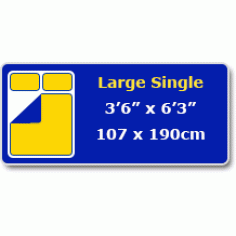 Divan bases are extremely popular and available in dozens of different fabric colours. The choice of fabric allows you to style your base in a contemporary or traditional way. You may also add a matching contemporary or traditional headboard in the same fabric which will enhance your divan set in the style and colour that you choose.

2'6" Small Single, 3'0" Single and 3'6" Large Single divan bases are available with 2 same side drawers. The 4'0" Small Double, 4'6" Double, 5'0" King and 6' 0" Super King bases may have 2 foot end drawers, 2 same side drawers, 4 large drawers or 2+2 continental drawers (which have two half drawers at the head end and 2 large drawers at the foot end). A large jumbo end drawer is also available for the 4'0" Small Double , 4'6" Double and 5' 0" King divan bases only.
Our standard divan base height is 35cm (14") which excludes the mattress. We also sell 28cm (11") low divan bases which are perfect for deeper mattresses and for children so they are lower to the floor. As with all handmade products these measurements are approximate.
It is useful to note that the divan base sits in the footprint of the mattress which is great for compact rooms.

Now simply add your mattress of choice...
Showing 1 to 2 of 2 (1 Pages)